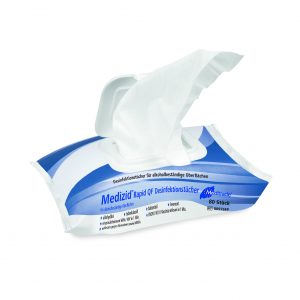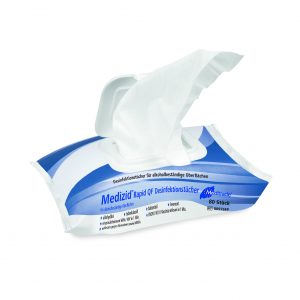 Do you want to place an order?
Our friendly Customer Service team is here to help, and they'll respond to you as quickly as possible
Medizid rapid Q
ALCOHOL-BASED HYGIENE WIPES FOR THE DISINFECTION OF MEDICAL DEVICE SURFACES AND OBJECTS
Active substances in 100 g: 50 g ethanol Shelf life: 3 years (see label). Shelf life after breaking seal: 28 days. Keep containers tightly closed. Use moist wipes only. Warehousing and storage under standard storage conditions (protect from moisture, direct sunlight, heat and frost). Regulatory Requirements. Medizid® Rapid QF Flowpack is not a medicinal product and is subject to biocide legislation. Use biocides safely. Always read the label and product information before use. Type 1 biocide product ("biocide products for human hygiene"), biocide reg. no. N-75574. Medizid® Rapid QF disinfectant wipes (flowpack) are ready-to-use. The surfaces and objects to be disinfected are wiped down with the Medizid® Rapid wipe, ensuring that the surface/object is wetted thoroughly. Exercise care with alcohol-susceptible materials. Do not use for the disinfection of invasive devices.
REF number: 00976FP
This site is registered on
wpml.org
as a development site.